Why get an appraisal?
You might assume that securing a mortgage is the only reason you should get an appraisal, but there are other situations when the services of a certified, independent real estate appraisal professional are needed.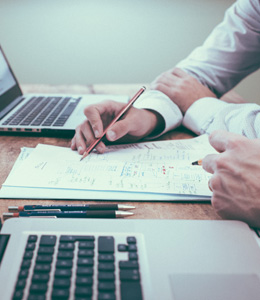 Contest your tax assessment
It's probable you're paying too much in property taxes if you reside in an area where property values have depreciated, or if your home is inferior to others in your neighborhood in condition or amenities. Ad Valorem taxes are determined by an assessment of your house, so if the value on your home is below what it's being assessed at, you can appeal your assessment and save money. When building your case, an appraisal from us is your best evidence. We're qualified to assist you in appealing your tax assessment. Check your value with the Shawnee County appraiser here.
Get rid of PMI to lower your mortgage payment
Private Mortgage Insurance, or PMI, is an added insurance plan that most lenders ask buyers to purchase when the amount being loaned to the home owner is more than 80% of the actual value of the real estate. This extra payment is often folded into the monthly mortgage payment and is quickly forgotten. This is unfavorable because PMI isn't required when the leftover balance of the loan - whether through market appreciation or principal pay down - goes below the 80% mark. In fact, the United States Congress passed a law in 1998 (the Homeowners Protection Act of 1998) requiring lenders to eliminate the PMI payments when the loan-to-value ratio conditions have been met.
If you'd like to eliminate PMI, Robin Taggart Hannigan with Keller, Craig & Associates, Inc. can provide an appraisal of your home. The price you paid for the appraisal can often be recovered in just a few months because you'll no longer be paying the PMI. Ask your lender how to proceed.
Get an accurate valuation for divorce settlements
A divorce can be a very daunting ordeal for both parties, and it is often further complicated by the challenging decision of who keeps the property. So both parties are fully aware of the true market value of their house, it's a good idea to get an appraisal from Robin Taggart Hannigan with Keller, Craig & Associates, Inc., regardless of the situation.
The parties will have a better idea of what price to set, if they wish to sell the home. And if a "buyout" is the chosen option, both parties will feel like they've received a fair assessment.
Settle an estate
The loss of a loved one is a difficult time in life, and settling an estate from a death, or probate, often requires an appraisal to establish Fair Market Value for the real estate involved. We guarantee the fullest degree of discretion, as we're bound with confidentiality by the ethics provision within the Uniform Standards of Professional Appraisal Practice (USPAP).
Most Americans don't have dedicated estate planners or executors to manage these issues. A home or other property often makes up a disproportionate share of the total estate value, so knowing the true value of the real estate is of significant importance to ensure disputing parties know they've gotten a fair deal.
Relocate to or from Topeka and the surrounding counties for work
We understand the headaches involved with an employee relocation. That being said, we take great care in setting up an accommodating appointment time for the appraisal inspection. During our intensive inspection, we encourage relocating employees to provide input on the positive aspects of their property, as well as information regarding any recent sales or listings in their area that they want considered.

Expert Witness Testimony
We offer a full range of real estate appraisal services for litigation, with experience in many types of property. We are also experienced in legal support and expert witness services. Clients who have used our expert testimony services include government agencies, tax entities, utility companies, financial institutions, insurance companies, legal and accounting firms and many other businesses. We have been hired directly by the Kansas Supreme Court as well as the Shawnee County District Court. In many cases, our independent, supportable analysis has allowed clients to settle cases without going to court.
An appraiser must remain unbiased in performing an appraisal of a property. We can consult with you and advise you about the relative strength of an appraisal presented by opposing parties. We can also perform additional research and analysis to support or discredit assumptions or conclusions.
Some examples of issues we have experience with include:
Valuation of "stigmatized" property
Valuation as of a date in the past
Valuation for condemnation and eminent domain cases
Effect on value of properties with history of flood, fire, or other disaster
Estate settlement
Effect on value caused by insect infestation
Valuation for divorce, partnership, taxation issues etc.
With our experience and proven track record we are ready to take on any type of appraisal assignment and our appraisal values stand up under the most severe scrutiny.
Condemnation - Eminent Domain
It's not just a good idea -- and it's not just the law -- it's your constitutional right that if the government wants to condemn your property, or take it from you by means of "eminent domain," it must give you "just" compensation. That's where we come in.
The government is likely to have its own idea of "just" compensation, typically based on a professional appraisal. But a second opinion appraisal, performed under the standards of the Uniform Standards of Professional Appraisal Practice (USPAP), is powerful -- and useful -- evidence of what you're entitled to, and protects your rights.
It works the other way, too. We perform work for government clients needing to offer and provide "just" compensation in eminent domain cases. A USPAP-compliant appraisal is the best way to determine fair market value of any property. Our clients include the city of Topeka, Shawnee County, Kansas Supreme Court, utility companies, and condemnation attorneys.
Sell your home promptly - at the right price
A professional appraisal can help you make a better educated decision when determining your asking price, whether you decide to sell your home on your own or with the help of a real estate agent. An appraiser has no vested interest in what price the house sells for, unlike real estate agents. Our fees are based on our efforts to finish the appraisal report and and aren't related to the sales price.
On a daily basis, we determine the difference in value items like an additional bathroom or a kitchen remodel can make. Seeking a professional appraisal is a reliable way to decide what improvements will add value and what an appropriate sales price is for your home so you don't come up short or have your house on the market an unnecessarily long time, because we're experts in knowing the market.

Appraisal Reviews and Second Opinions
Getting a second opinion on an appraisal is routinely done by lenders and often by attorneys. A review appraisal should ascertain: whether the original appraisal or evaluation is well-suited for the transaction, the exposure inherit in the transaction, and whether the means by which the real estate valuation is acquired ensures independence, accuracy, and quality. Moreover, they must show whether the appraisal report is in line with the scope of work for the appraisal assignment.
In addition to conforming our work to the processes and guidelines of our review customers, there are four Fannie Mae forms that are largely used for review services, and we will produce an appraisal review on any one of them. They include an appraisal "desk" review, a "field" review, a "short" form and a "narrative" form. At Taggart and Associates, Inc. , we're experienced in every form of appraisal review, the review process, and the responsibilities of review appraisers. In legal situations we are often requested to review another appraisal to check for accuracy and bias.
We understand what the typical report weaknesses are, specifically in our housing market, as well as what makes a quality appraisal. At the same time, the professionals at Taggart and Associates, Inc. are sufficiently experienced to know that our competitors in our market are skillful in doing a great job. The Uniform Standards of Professional Appraisal Practice, or USPAP, govern appraisal reviews and appraisal reports, and you can count on us to lawfully review appraisal reports done by others.

You can rely on Robin Taggart Hannigan and Keller, Craig & Associates, Inc. for our independent judgment, because we offer professional, unbiased, ethical appraisal review services for our customers.

Order your appraisal from Robin Taggart Hannigan with Keller, Craig & Associates, Inc. today
Order today